All bottles (oil, wine, etc.), both glass and plastic, must be transported in compliant packaging, approved by the carriers as they require particularly resistant packaging material that allows them to be immobilised inside the box in which they will be inserted.
Tips
It is always preferable to transport this type of goods separately from other types of merchandise (clothes, books, etc.).
Always check the integrity of the packaging and ensure there are no defects in the closing system.
Packaging materials

To pack your bottles, you'll need the following materials:
Boxes with separators and anchor points

, based on both weight and dimensions of the bottle.

Polyethylene sheets.

Mouldable foam.

Polystyrene tubes.
Expanded polyethylene sheets.

Inflatable packaging (Airbags).

Packaging tape.
Packaging instructions
Once you have gathered all the materials, please follow these instructions to avoid any damages:
Pack each bottle individually.
Wrap them using absorbing and/or waterproof material, such as polyethylene sheets, polystyrene tubes or foam adapted to the shape of the bottle.
Do not leave the bottles' corners or protuberances uncovered.
Place your bottles into the box using separators, at least 5 cm away from the box borders, in order to avoid any damage during transportation.
Protect the borders of the box using expanded polyethylene.
Fill the empty spaces of the box (using mouldable foam, f

oam chips or shavings

, i

nflatable packaging),

immobilising the items and protecting them from vibrations.
Close and seal your parcel with a strong paper packaging tape.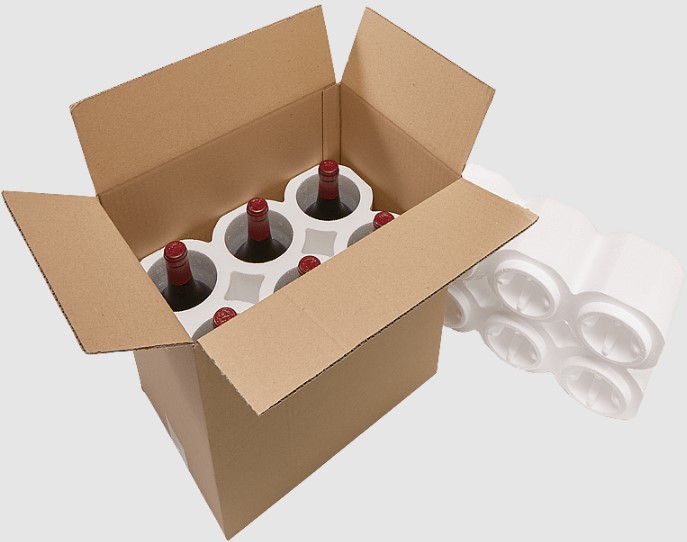 ​​ Restrictions
It is not allowed to send bottles using our standard services in the cases outlined in this article, as the shipment may be returned to the sender and no refund is applicable in this situation. For more information, please check also the list of Prohibited and non compensation items.
Coverage
In the event of damage, our Claims Department will only consider claims where the items have been transported with sufficient protective material. Any item that is transported without respecting our Packaging Guide will be excluded and ineligible for any compensation otherwise awarded.
Important
Non-suitable packaging with bubble wrap and/or newspaper sheets are considerate inappropriate packaging by our extra protection cover, and in case of damage, no claim will be accepted.