On January 1st 2019, an important change came into effect in the Dangerous Goods Regulation (IATA DGR). As a result, items including batteries can be shipped to internationally, only if they comply with the Air Transport Regulation conditions (IATA).
Important
Only those items with the label UN 3481 will be accepted for shipment.
Regulations
While being transported, lithium batteries or any battery included in electronic devices should not move or be completely discharged.

The lithium content cannot exceed 1 gram/20 Wh or 2 gram/100 Wh per battery.
Batteries must be packed to protect them from heating, short circuit and to prevent any crush.
Batteries must not be damaged or defective.
Identifying lithium batteries
Check the external part of the battery and its composition.

Read the manufacturer's instructions, as they always indicate what type of battery is included in the device.

If you are unsure and you would like to get more information about the product you should always contact the manufacturer.
Lithium-ion batteries (Li-ion or LIB): where the lithium is only present in an ionic form in the electrolyte. Lithium-ion batteries are generally used to power devices such as mobile telephones, laptop computers, tablets, power tools and ebikes.
The main risks associated with transporting battery powered devices are: accidental activation, short circuit, the battery becomes a dangerous heat source or any acid leakage which may damage other shipments.
Packaging materials
Double corrugated cardboard boxes, based on both weight and dimensions of the item.

Expanded polystyrene box.

Electronic adhesive tape, for insulation.
Mouldable foam.
Compression-resistant polyethylene foam (PE).
Polystyrene chips.
Packaging tape.
Packaging instructions
Make sure that the electronic devices are turned off.
Protect on/off switches, to make sure they are not activated during transportation.

Protect the battery terminals by covering them with non conductive materials, such as plastic caps or electronic adhesive tape, for insulation. Activating battery terminals may generate a fire.

Pack the electronic devices separately, avoiding any contact with other batteries, devices or conductor materials, such as metal.
Wrap the items with at least 5cm of expanded polyethylene sheets and make sure they are protected.
Place the items inside an insulating container, which must be completely sealed, using non-conductive materials, such as expanded polystyrene box.

Place your items into the double corrugated cardboard box.

Fill the empty spaces of the box (using mouldable foam, f

oam chips or shavings

, i

nflatable packaging),

immobilising the items and protecting them from vibrations. Moving batteries may generate a short circuit.
Close and seal your parcel with a strong paper packaging tape.
Accepted label
UN 3481: Lithium ion batteries contained in equipment or lithium ion batteries packed with equipment.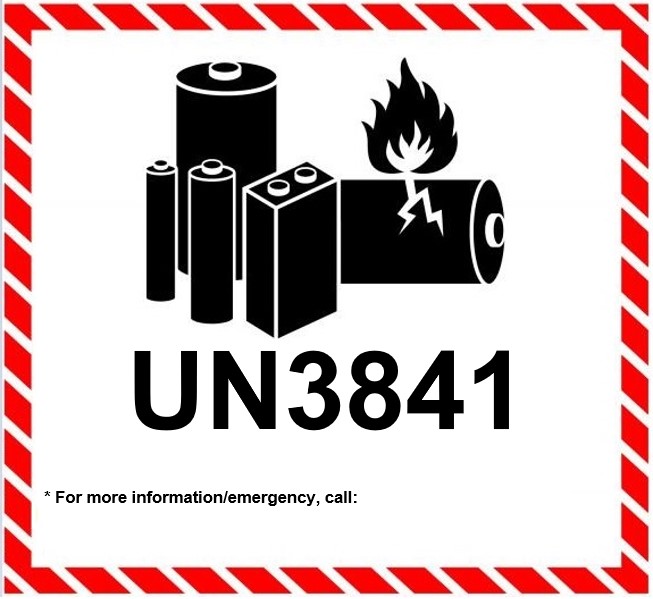 It is mandatory to identify the parcel with the lithium battery label.
The label must be square

.

Minimum measuring requirements: 10 cm (height) x 10 cm (length)

.

The label must be clearly visible

.

The label must contrast with the colour of the external box.

An emergency contact number must be provided.
Coverage
In the event of damage, the Claims Department will only consider claims where the items have been transported with sufficient protective material. Any item that is transported without respecting our Packaging Guide will be excluded and ineligible for any compensation otherwise awarded.
Improvised packaging such as like plastic bags or envelopes are inappropriate.